Meet Dr. Roya Zojaji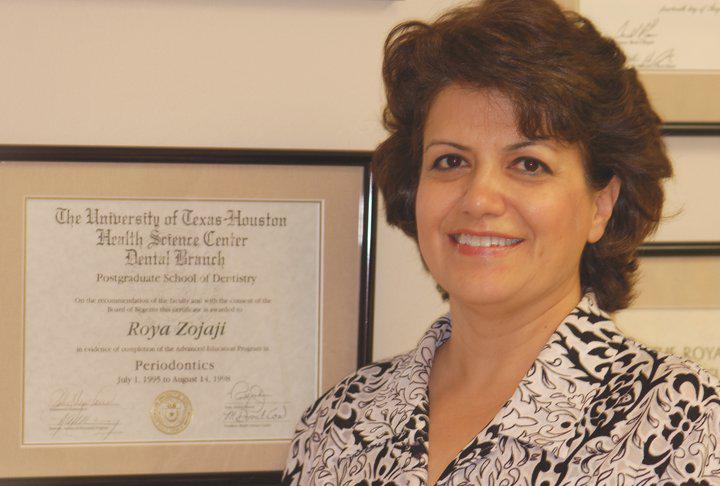 Dr. Roya Zojaji completed her Doctorate of Dental Surgery in 1985.  She began her career in dentistry working as a general dentist in Toronto, Canada.  After moving to the United States, she completed her two year Advanced General Dentistry program in the Eastman Dental Center in Rochester, New York. 
Dr. Zojaji completed her periodontal residency at the University of Texas at Houston in 1998 and received a Master of Science Degree and certificate in periodontics. Dr. Zojaji is certified as a periodontist by the American Academy of Periodontology. She proceeded to practice in private practice and taught at the University of Texas at Houston
Dr. Zojaji's clinical emphasis includes both non-surgical and surgical periodontics,  periodontal plastic surgery, bone augmentation procedures, conscious sedation (sleep dentistry),  and implantology.
Dr. Zojaji is married and has two boys   In her spare time, she enjoys swimming, hiking, and aerobics.  Dr. Zojaji and her family have resided in Arizona since 2001.
What is a Diplomate?
A Diplomate is a periodontist who has made significant achievements beyond the mandatory educational requirements of the specialty and who is certified by the American Board of Periodontology.
Board certification requires:
Comprehensive qualifying and oral examinations covering all phases of periodontal disease and its treatment, including dental implants.